Ryan Harwell is a student at Arroyo High. He comes from a wealthy family, heir to a frozen dinner empire, and has a bit of a 'bad boy' reputation due to the stunts he pulls.
Ryan was shipped off to boarding school about a year ago and is now back after being expelled because of a prank by which involved sneaking a hammerhead shark into the water polo pool.
Season One
Ryan makes his first appearance in "Pleased to Met Me", after being shown to have been expelled from his previous boarding school. He is first seen talking to Mads and Emma, showing him to have an attraction towards Mads after flirting with her. Mads reveals she dislikes him, while Sutton hates him after seeing his mom buy jeans from GAP Kids in 9th Grade.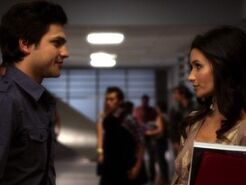 Season Two
Mads reveals Ryan broke up with her for going to the police with their suspicions of Alec killing Derek instead of asking him.
Notes/Trivia
In 9th grade, Sutton Mercer told everyone she saw Ryan's mother buying his jeans at Gap Kids. (Which was, in fact, true.)
He was a big loser at first and very smart.