The relationship between Emma and Thayer.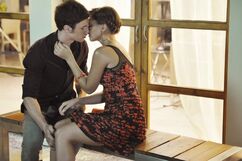 They are also known as Themma.
Season One
Emma Becker and Thayer Rybak, have a relationship of hate and love as Emma's twin sister Sutton Mercer slept with Thayer to get back at Ethan Whitehorse, her boyfriend until he kissed Emma. After, Emma started dating Ethan. Since Emma had to pretend to be Sutton, Sutton's adoptive parents assume that Ethan is now dating Sutton. Ethan was dating Sutton through the summer but as a secret. While Emma and Ethan get closer, Thayer and Emma become good friends. At the end of the season, Emma breaks up with Ethan for kissing Sutton at the farm.Near the the end of the season finale episode, Emma is seen hugging Thayer because he is upset through believing his dad wouldn't do any harm to anybody. Ethan sees them hugging and gets jealous.
Season Two
In The Revengers, Thayer and Emma have been growing closer and closer. He is starting to be really protective of her. When she goes and sees Alec, Thayer gets angry with her and tells her that Alec is messing with her head. He then goes to see Alec and tells him to stop messing with it. Alec had said something to Thayer making him think about him and Emma. Emma sees how Thayer is acting weird and asks him about it. First, he says nothings wrong but then decides to tell her about what Alec had said. He then says that he wasn't playing a game with her that his feelings for her is real. She admits she feels the same way.
Quotes
Emma : "What?"
Thayer : "It's just... You've been the one bright spot. In all of this." -Unholy Matrimony
Thayer: Did you come here because you want my help or because you want me?
Emma: Both.
---
Difference in Novels
Thayer doesn't know about Emma and thinks she's Sutton.
They are known as Emma Paxton and Thayer Vega.
Even though he secretly dated Sutton, he can't tell the difference between Emma and Sutton.
Videos
Gallery
Season One
Season Two
Trivia